As a new mom, I quickly learned that I needed more than one diaper bag! For me, I look at it like this — match the diaper bag to the experience and where you are going. I  classify each type of bag below and have linked the ones I have in case you like them — you know where to buy!
The 3 Types of Diaper Bags: Click the type to shop my bags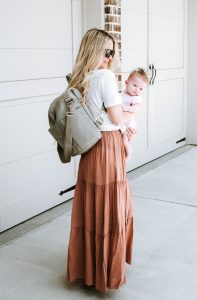 1. The Stylish Diaper Bag  – this one is more stylish and fashion forward that could be used as your purse. It's probably the one you are willing to spend more money on as its more like a luxury handbag.
 2, The Sporty Functional Diaper Bag – this one is made out of a more durable type of fabric. It would be your go to for stroller walks, trips to the park or museum. This one would be more practical and most likely the one you use the most for your day-to-day needs.
  3, The Diaper Clutch – then there is the diaper clutch. Every mom – from what I have learned – needs a small clutch or pouch type bag that allows you to bring the basic diaper changing needs  for when you are on the run and have a short trip.